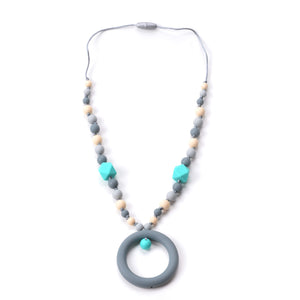 Turquoise & Gray Ring Silicone Teething Necklace
Regular price $14.99 Sale
Nummy Beads Silicone Teething Necklace - Gray Ring - Turquoise & Gray Beads
Nummy Beads silicone teething necklaces were designed to be the perfect product for you and your teething baby.
Safe
Made from 100% food grade, non-toxic, BPA free, silicone.
Includes a break-away clasp in case baby pulls too hard.
The colorful and soft texture of the beads draws interest from baby and is perfect for sensitive gums when teething.
Refrigerate for added relief and comfort for your teething baby.
Knots are included between each bead to help prevent hair from being pulled.
Functional
For the fashion conscious mom, multiple stylish colors are available.
Provides a closer bonding experience between mother and baby while also enhancing brain stimulation, coordination and sensory skills.
Breastfeeding moms love the distraction that these necklaces provide. No more hair pulling, scratching, pinching, hitting, or trying to run away during the middle of your nursing session.
Makes the perfect gift for expecting moms
Clean
Easy to clean with soapy warm water.
You can also clean your necklace in the dishwasher on the top shelf.
Nummy Beads is committed to providing a quality product at a quality price. We offer a 100% Satisfaction Guarantee and the necklace can be returned for your money back if you are not satisfied. We are confident you and your baby will love our necklaces.