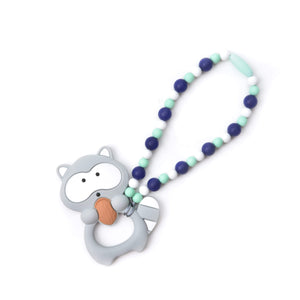 Gray & Blue Raccoon Baby Carrier Teether Toy
Regular price $14.99 Sale
Nummy Beads Silicone Teething Carrier Toy - Gray & Blue Raccoon
Nummy Beads silicone teething carrier toys were designed to be the perfect product for you and your teething baby while baby wearing. Simply attach the carrier teething toy around a shoulder strap near the baby and they'll take care of the rest!
NOTE:
These teethers may seem to be just the right size, but
DO NOT
use this as a necklace for your baby. It poses too great of a hazard for you to put this around your baby's neck. Always use this baby carrier teether with adult supervision!
Use it on many popular SSC baby carriers like Tula, Boba, Ergo, Mei Tai, Kinderpack, Lillebaby, and Beco. It would also work for other carriers like BabyBjorn.
Safe
Made from 100% food grade, non-toxic, BPA free, silicone.
14 inches long and includes a break-away clasp.
The colorful and soft texture of the beads and fun green raccoon charm draws interest from baby and is perfect for sensitive gums when teething.
Functional
For the fashion conscious baby wearing mom, multiple stylish colors and charms are available.
Provides a closer bonding experience between mother and baby while also enhancing brain stimulation, coordination and sensory skills.
Makes the perfect gift for expecting baby wearing moms
Clean
Easy to clean with soapy warm water.
You can also clean your carrier teether toy in the dishwasher on the top shelf.
Nummy Beads is committed to providing a quality product at a quality price. We offer a 100% Satisfaction Guarantee and the carrier teether can be returned for your money back if you are not satisfied. We are confident you and your baby will love our products.